SentryHD
UPS MONITORING & MANAGEMENT SOFTWARE
SentryHD UPS MONITORING & MANAGEMENT SOFTWARE
Manage & monitor your Minuteman UPS and connected equipment via USB, RS-232, or the network
SentryHD provides users with powerful monitoring, management, and configuration capabilities for most current Minuteman UPS products.
Features:
Safe shutdown
Scheduled events
Event logging
Batch configuration
Remote management
Event Notification
Get ultimate control over your power with SentryHD
In today's complex world of data, networks, and software, control and management of applications is vital, especially when it comes to the power that is supplied to these devices.
SentryHD is the latest update to Minuteman's popular Sentry monitoring and management software. This powerful tool provides users and network managers a range of monitoring & managment tools for their power, allowing total control before, during, and after power problems.
With a simple connection to the UPS via USB or RS-232, SentryHD provides the capability to configure UPSs, monitor power, and diagnose issues, all from secure connections on the network. This eliminates wasteful runs around the facility, saving time and money.
SentryHD Capabilities
Monitor, manage, and safely shutdown Minuteman UPSs via USB or RS-232
Simultaneous USB and RS-232 communications for added flexbility
Sends notifications of power events via email, SMS
Schedule shutdown and startup of equipment to save energy
Batch Configuration capable, saving valuable setup time
32 & 64-bit operating system support
User-programmable alarm levels – customize warnings
Supports UPS load-shedding to extend runtime for critical components
SentryHD Features
See full details on the functionality of SentryHD in the User's Manual.
Versatile communications – SNMP/Ethernet compatibility
Wide-reaching – Concurrent monitoring through single or multiple computers via RS-232 and USB connections
Batch Configuration – Save time during setup and updates with convenient batch configuration capabilities
NMS Integration – Supports SNMP v1, v2c, and v3 traps for integration into the Network Management System
Secure connection – HTTPs and SSL support
TCP/IP Network – Remote monitoring, control, multi-computer shutdown/restart and configuration through TCP/IP network
Monitor and control multiple UPS devices from a single application session
Automatic actions to reduce downtime, increase efficiency:
Save Power Automatically – Perform scheduled shutdowns and restarts
Auto-Save – saves files before graceful operating system shutdown
Automatic Notifications – E-mail, SMS and network broadcast of user-defined UPS events
SNMP Integration – Notification via SMS, e-mail, voice alarm, network broadcast and SNMP trap
Ultimate control and knowledge of your power and device status:
Real-time graphical displays of user-defined UPS and utility conditions
Record and save graphical event and history logs for future analysis
Device control – Restart, test UPS and control receptacles
Powerful reporting – Full diagnostic and event reporting, printable history, event logs and security measures
Real-time Monitoring – meters display UPS data (voltage, frequency, loading percentage, etc.)
Central Control – Monitor all UPSs at a glance within a network
SentryHD Screenshots
Main Dashboard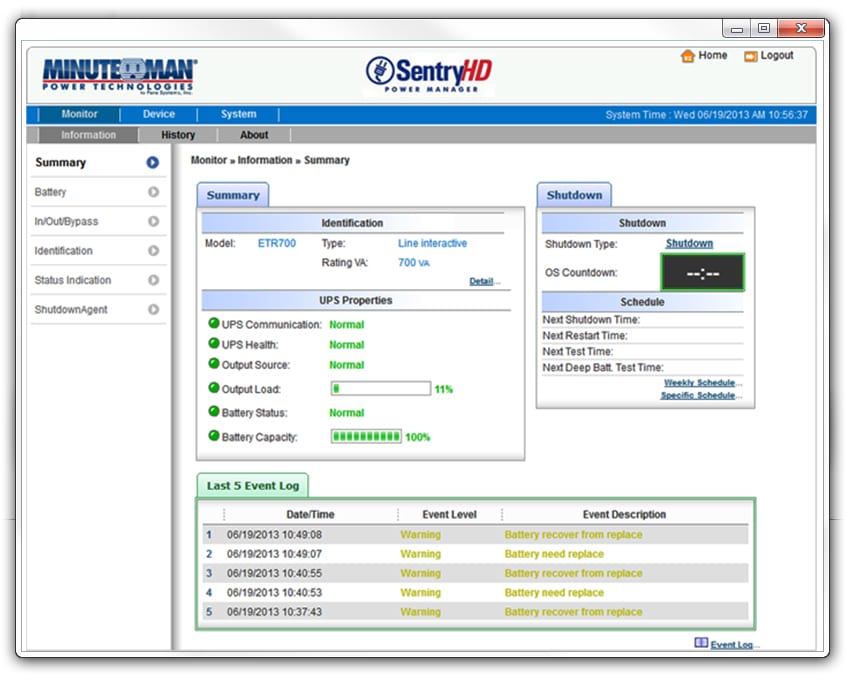 History Logging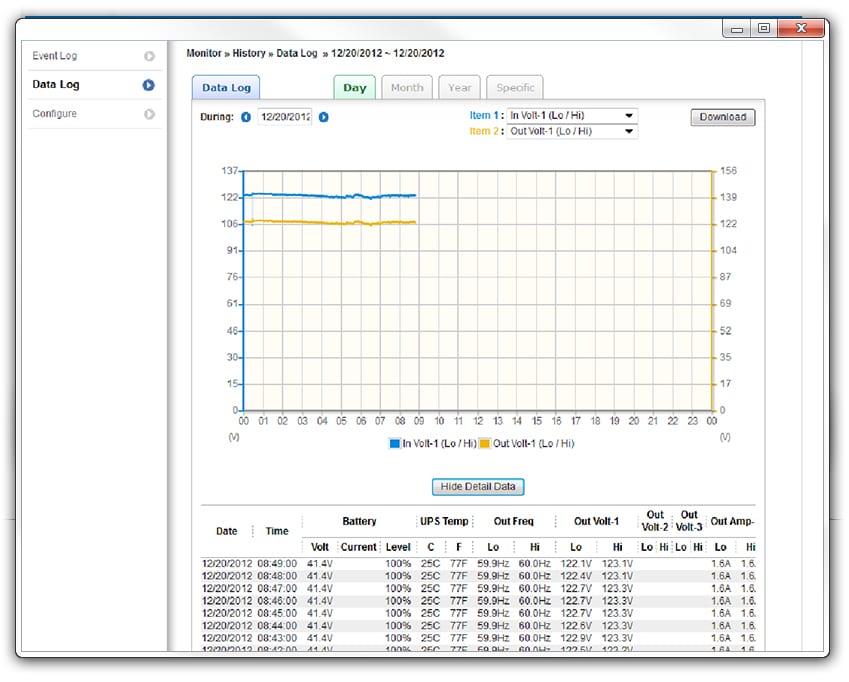 Event Scheduler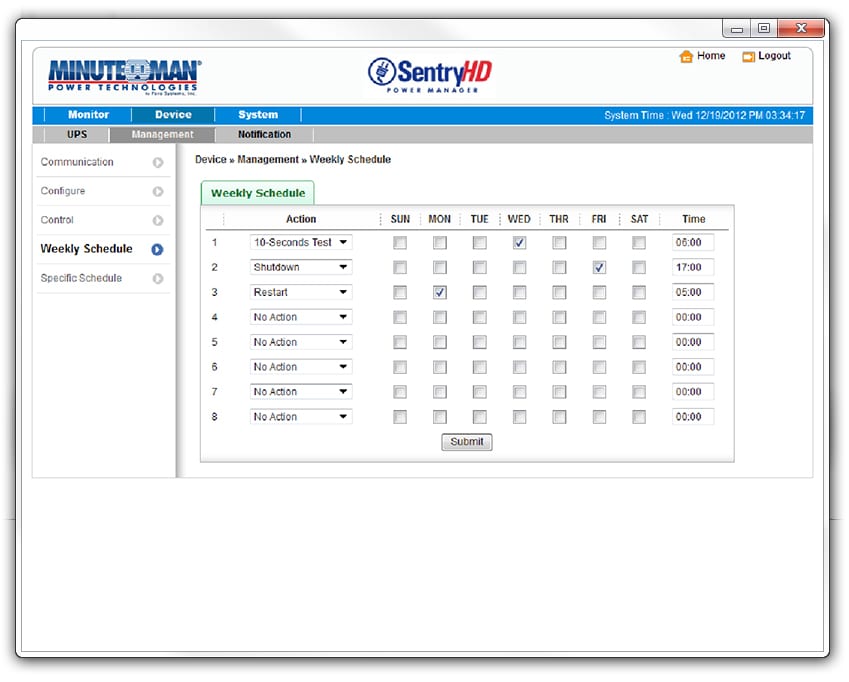 Batch Configuration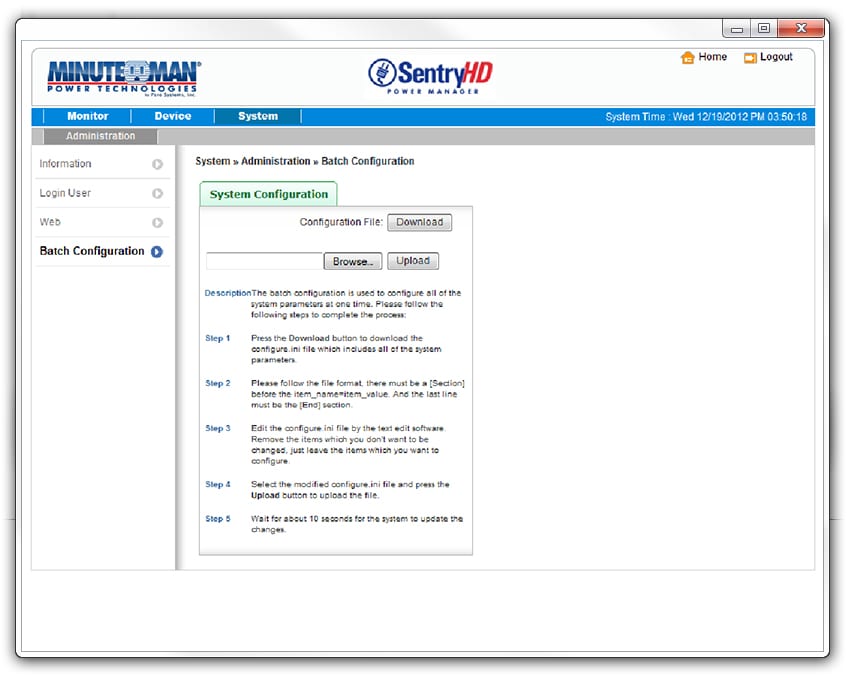 Notification Settings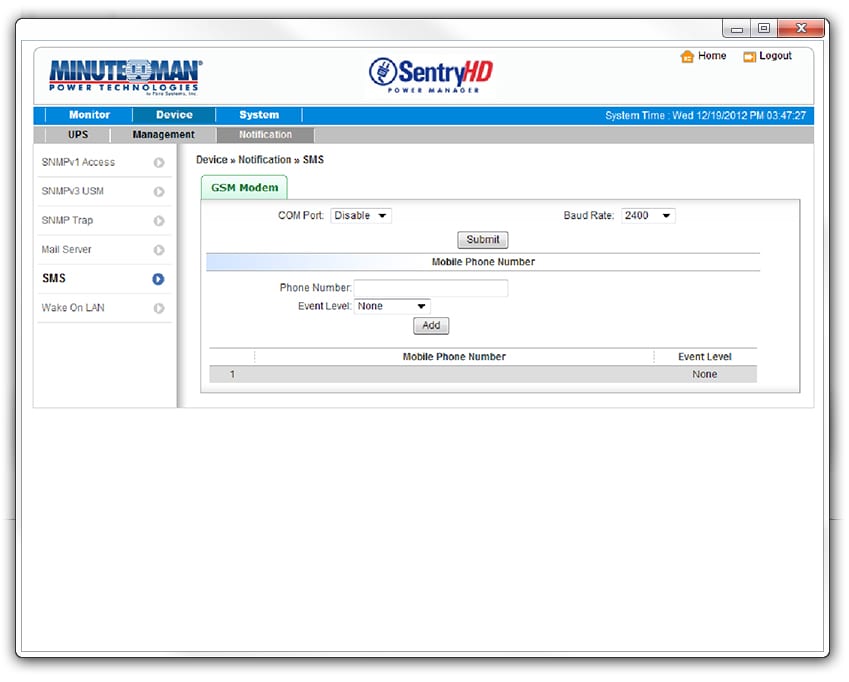 SentryHD Compatibility and System Requirements
SentryHD UPS Compatibility
Compatible with most current Minuteman UPS products
Legacy products utilize previous versions; see your user's manual for details
SentryHD System Requirements
Windows – 10 (32-bit/64-bit), 8 (32-bit/64-bit), 7 (32-bit/64-bit), Vista (32-bit/64-bit), XP SP2, Server 2012 R1/R2 (64-bit), Server 2008 R1 (32-bit/64-bit), Server 2008 R2 (64-bit), 2008 Server Core, Hyper-V 2008R2, Server 2003
Linux – OpenSuSE 11.4, ubuntu 10.04, Fedora 3.1.9, CentOS 5.8, Citrix XenServer 6.0.0, KVM
Supports the Microsoft® Windows® 2000/XP hibernation feature (Windows version only)
Supports DMI (Desktop Management Interface) (Windows version only)
Supports HTTP, monitor by Microsoft IE, Firefox, Opera, & Safari
Compatible with most active Minuteman UPS products
SentryHD Free Software Download
Add powerful monitoring and control capability to your Minuteman UPS
Download the current version of Minuteman's powerful SentryHD Power Manager from our Software Downloads Center.

B. Walters – Mt Pleasant, SC
APC provided virtually no customer service. I had a problem at installation of MN 525 which was immediately addressed by Minuteman.
"I not only will recommend Minuteman because of your service but I will never buy any other UPS. And I will convert all my customers to Minuteman. Thank you for being so service oriented."
Your technical assistance is among the best I have ever experienced. Jeff, the technician who assisted me with an installation issue was knowledgeable, fast, efficient, and friendly.