SNMP CARDS & MONITORING
ACCESSORIES FOR MINUTEMAN UPSs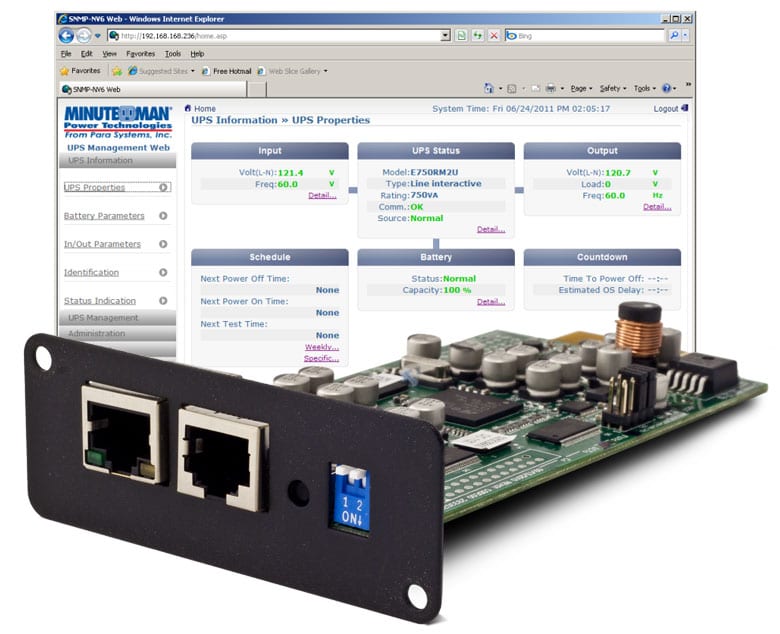 SNMP CARDS & MONITORING ACCESSORIES FOR MINUTEMAN UPS
Expand monitoring and control of power to your devices with optional accessories
Select Minuteman UPS products are capable of accepting Simple Network Management Protocol (SNMP) communications cards which can monitor and manage UPSs via the network.
WARNING: This product can expose you to chemicals, including Nickel, which are known to the State of California to cause cancer and birth defects or other reproductive harm. For more information, go to: www.P65warnings.ca.gov/product
B. Walters – Mt Pleasant, SC
APC provided virtually no customer service. I had a problem at installation of MN 525 which was immediately addressed by Minuteman.
"I not only will recommend Minuteman because of your service but I will never buy any other UPS. And I will convert all my customers to Minuteman. Thank you for being so service oriented."
Your technical assistance is among the best I have ever experienced. Jeff, the technician who assisted me with an installation issue was knowledgeable, fast, efficient, and friendly.