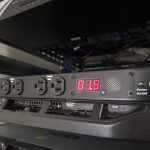 With organizations continuing to grow, so will the technology requirements. Increasing power demands will call for more electrical outlets. To meet the growing demand of technology, business organizations will add IDFs (Intermediate Distribution Frame) and expand MDFs (Main Distribution Frame) which means multiple devices that will require multiple outlets. Enter Power Distribution Units, or PDUs.
What is a PDU?
A PDU distributes reliable network power to multiple devices. It does not generate or condition power but delivers AC power from an uninterruptible power supply (UPS), a generator, or utility power source to servers, networking hardware, telecom equipment, and other devices.
Why use a PDU?
In its basic form, a PDU does the same job as a power strip. It uses current from a single source, usually a wall outlet, to power multiple devices, such as computers, peripherals, and networking devices. However, PDUs are designed for installation in equipment racks, maintaining power within reach of rack mounted devices such as servers, switches, routers, or cooling fans.
PDUs are commonly used in data centers, network closets, VoIP phone systems, and industrial environments.
How to pick the right PDU
To find the right model for your needs, ask yourself the following six questions.
Where will I install it?
What kind of input power do I have?
How much power does my equipment need?
How many outlets do my devices need?
What kinds of plugs do my devices have?
Do I need other features?
PDU Installation
PDU models are typically offered in 1U or 2U heights for horizontal mounting. They can also be mounted vertically, known as 0U. Depending on the model, they can be mounted in a rack enclosure, on a wall, or under a shelf.
Horizontal PDUs are designed for mounting in a standard 19-inch equipment racks. They can be placed above, below, or between the components they power.
Vertical PDUs look like tall power strips. They fit on the upright rails of a rack enclosure and do not take horizontal mounting space away from other equipment.
Input Power
Choosing the right PDU will depend on the device(s) input plug. Single-phase power alternates between positive and negative voltage; in the United States, the rate is 60 cycles per second. That means the wave has zero voltage every time it moves from positive to negative and back. Most household and office power are single-phase and work with the following receptacle (outlet) types: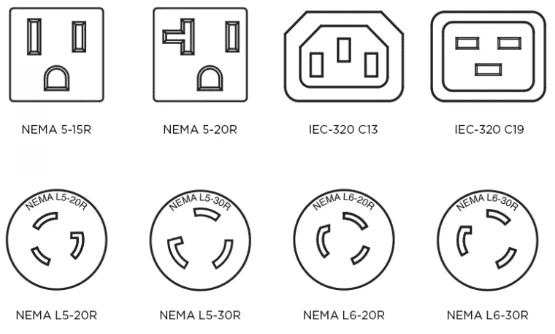 How many outlets do devices need?
The PDU chosen should have at least as many outlets as the number of plugs that are needed to connect. If a device has more than one plug, or if one device must be plugged into another, adjust your count. Remember to leave room for more devices that may be added in the future.
Other features
A basic PDU shares a single power source with multiple devices. It simplifies the management of rack equipment and makes a valuable addition to any IT installation. Advanced models do much more, such as protecting against downtime and allowing remote control through software.
Basic PDU distributes unfiltered AC power from a UPS system, generator, or utility source to multiple connected devices.
Switched PDU distributes network-grade power and allows users to control outlets individually or collectively. A digital meter provides information on load and voltage and supports local control; an SNMP connection enables remote monitoring and control.

Ready to choose a PDU?
Minuteman Power offers an easy-to-use PDU selector – sizemyPDU. If you have more questions, or need assistance, contact our power experts.