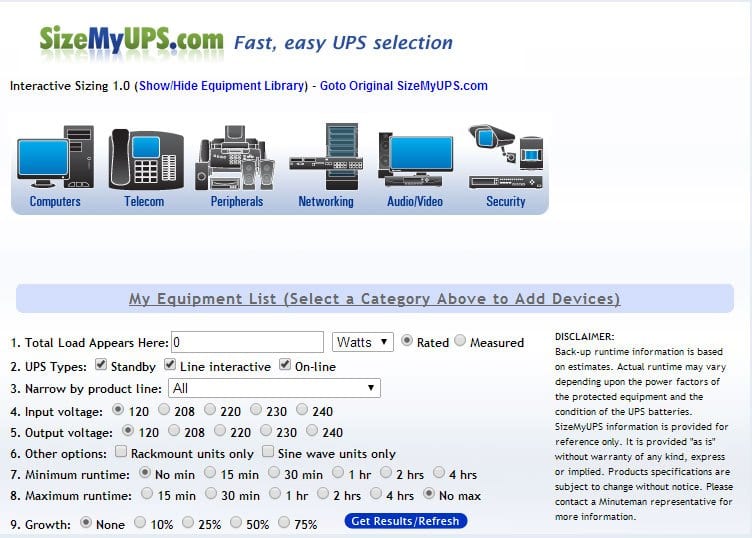 When it comes to UPS sizing, Minuteman is and has always been ahead of the game. With our SizeMyUPS tool, finding the right size UPS for any application has never been easier.
The same reason that you wouldn't buy a Mini Cooper to go with your cattle ranch, you wouldn't buy an online UPS for one telephone or one computer. This is where our SizeMyUPS tool comes into play. With SizeMyUPS.com, recommendations will be based on your system(s) needs.
This can seem like an overwhelming task, but SizeMyUPS has designed easy-to-use sections. Let's take a look at each one.
Building Your System
First, the equipment database is broken down by device category, choices include: Computers, Telecom, Peripherals, Networking, Audio/Visual, and Security. Once you have selected one of those categories, you can then select a specific device(s). By clicking on a specific product category, you have the ability to choose the product manufacturer and model along with the quantity of those specific devices. You will then click the 'Add It' button to have those devices factored into the total load in the sizing tool.

You can continue adding different equipment and devices until your entire system is displayed under the "My Equipment List." For example, you can add security devices, such as cameras, then add a computer to complete the system. The tool will base the UPS recommendation on the total power load of all devices combined to ensure the best UPS fit for the system.
What are your power needs?
Once all of the devices have been selected and added, SizeMyUPS has nine different tools to narrow down the selection, listed under the "My Equipment List." The first of the tools simply displays the total load of the system in Watts, VA, or Amps. In most cases, including using the integrated equipment database, the default 'rated' load box can remain selected.
If the equipment has had an electrical load meter attached to measure the exact power consumption, the 'measured' button should be selected for the most accurate UPS selection.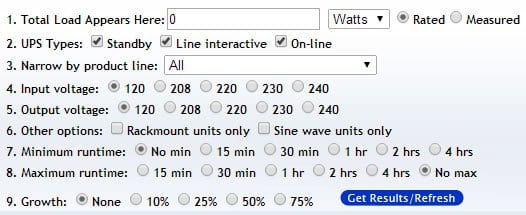 The second and third lines allow you to select a specific type of UPS (standby, line interactive, online) and a specific product line. For example, the second line allows you to only view online UPSs, or to view line interactive and online UPSs, while the third allows you to select product lines such as the Endeavor or the new EnterprisePlus LCD series.
The fourth and fifth lines deal specifically with voltage needs. While most systems will need either 120 or 208, some bigger systems require larger input and output voltage. The sixth line contains miscellaneous choices, such as rackmount units only or sine wave units only.
Lines seven and eight are designed for particular runtime needs. While some systems will not require a specific runtime minimum or maximum, many systems will need to have the user narrow down UPS selection by the runtime.
Lastly, line nine lets you select a particular UPS that will allow for growth in their system. For instance, if a security system manager needs a UPS and knows that they will eventually be adding more cameras; the tool allows the individual to select a UPS that will account for that expansion in load.
Once all the specifics have been picked out based on your needs, SizeMyUPS will display UPS recommendations. The recommended UPSs can be arranged by Model, Runtime, Product Line, UPS Type, and MSRP.
Take the Guesswork out of UPS Selection
With our simple-to-use sizing tool at your fingertips, Minuteman has made it easier than ever to find the right UPS for your specific system, eliminating the excess cost and any confusion.