UPS BATTERY REPLACEMENT
UNINTERRUPTABLE POWER SUPPLY BATTERY REPLACEMENT INFORMATION
IS IT TIME TO REPLACE THE BATTERIES IN THE UPS?
Typical UPS battery life is 3 to 5 years. This is dependent on a number of factors, including:
Temperature where the unit is located
Total number of times the battery is fully discharged
Utility power quality: poor quality leads to shorter life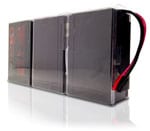 LEARN HOW TO TEST AND REPLACE YOUR UPS BATTERIES
Battery health is critical to UPS function. 
These videos outline when batteries should be replaced, and how to replace the batteries in the Minuteman Enspire, Entrust, and PRO-LCD Series UPS, rackmount PRO-RT, EnterprisePlus, and Endeavor Series UPSs. Where to buy replacement UPS batteries is also covered.
Battery Replacement Part 1: Enspire, Entrust, & PRO-LCD
Battery Replacement Part 2: Rackmount UPSs
NEW BATTERIES VS. NEW UNIT
Minuteman battery backup system hardware is designed to function properly well beyond the life of the factory installed batteries. This makes battery replacement a cheaper and environmentally friendly option in most cases.
For smaller units, however, the cost of batteries often approaches the price of a replacement unit. Here are some factors to consider when deciding whether to replace the batteries, or replace the whole unit.
Batteries Only
Complete Unit
Total Cost
Varies by model. Compare:
Replacement battery price under "Online Ordering" above vs.
New unit price from your distributor or reseller
Hardware Age
Designed to outlive batteries;
Unless faults have occurred, likely no problems
All-new hardware, guaranteed trouble-free operation
Warranty
1-year battery +
any remaining hardware warranty
Full 3-years hardware
w/ 3-yr non-prorated battery
(2-year Enspire/Entrust-LCD®/Entrepid)
Environmental Impact
Conserves resources by replacing only worn-out pieces
Generates additional waste from full unit
PURCHASE A NEW MINUTEMAN BATTERY BACKUP UNIT
If unit replacement is the best option for you, visit our products page to see which UPS is the best replacement for your current unit.
Legacy Product Cross Reference
The table below provides a cross reference for many popular Minuteman product lines which are no longer in production:
B. Walters – Mt Pleasant, SC
APC provided virtually no customer service. I had a problem at installation of MN 525 which was immediately addressed by Minuteman.
"I not only will recommend Minuteman because of your service but I will never buy any other UPS. And I will convert all my customers to Minuteman. Thank you for being so service oriented."
Your technical assistance is among the best I have ever experienced. Jeff, the technician who assisted me with an installation issue was knowledgeable, fast, efficient, and friendly.