New UPSs from Minuteman offer unmatched versatility across multiple markets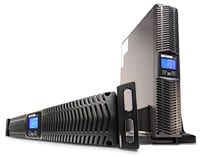 Today is an exciting day at Minuteman – we are busy launching our all-new EnterprisePlus LCD lineup of battery backup systems! What's new with this update, you ask? The most obvious thing is the new LCD display up front, but it goes way beyond that with more models, added outlets, new software, and much more.
Check out the press release here, and make the jump to see everything we've improved, along with all the good things about the outgoing Enterprise that we kept around.
Stay up-to-date, no more counting beeps or blinks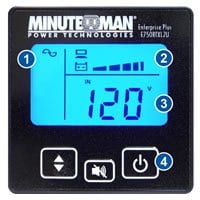 The biggest update to the EnterprisePlus LCD is apparent right up front, with the LCD Display. This screen tells you all about what's happening with the UPS itself, the power coming into and going out of it, the status of the batteries, and the estimated runtime remaining based on the current load. No more having to discern what beeps and blinks mean, it's all right there on the screen.

Standard or extended runtime – it's your choice
In addition to the new status screen, the EnterprisePlus LCD is available in 5 different power ratings, and each one can be had as an extended runtime capable model, or as a lower-cost standard runtime only (RT2U). This adds a new level of customization, and allows standard runtime users to save up to 13% on initial purchase price – truly the best of both worlds. Get the lowdown on all the new model numbers and features in our EnterprisePlus LCD Quick Reference sheet.

Save on your utility bills with ENERGY STAR and SentryHD


Other new features include additional outlets on all models, new ENERGY STAR certification on select models for increased efficiency, and greatly enhanced ability to manage the unit with our all-new SentryHD UPS Power Manager software.
Everything you loved about EnterprisePlus – enhanced
With all the improvements made to the new EnterprisePlus LCD, we can't overlook the things we've carried over from the venerable EnterprisePlus. Power is still regulated by a robust automatic voltage regulator, and the units still come in a rugged and versatile rack/tower convertible format. Most importantly, our 3-year, non-prorated warranty is still included, ensuring peace of mind beyond that of many competitive units.
Check out all the updated specifications, complete feature list, inside look video, and more at the EnterprisePlus LCD page >>