Stay on and connected from anywhere with Remote Power Management tools from Minuteman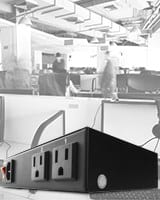 Arguably standing as some of the greatest innovations since fire, the emergence of smartphones and the internet have turned us into an 'always on' and 'always connected' society. We live in a world where people get upset if their planes don't have Wi-Fi and teens are using their phones for almost anything and everything. As a society, we are continuously looking for the next thing these fancy pieces of metal can do: Camera? Check. Music player? Check. House keys? Check. RPM? Check.
Wait, revolutions per minute? Not quite…read on to find out new meaning of RPM, and how it can help you.
An RPM (Remote Power Manager) is an ip-addressable PDU that gives administrators and technicians access to the power of connected servers, network equipment, and security devices via a secure connection. An RPM becomes an extremely valuable tool when, for instance, devices are remotely located or not easy to access.

Sometimes technicians have to drive hours to get to a remote location just to reset a device. I was incredibly annoyed the other night when I had to walk twenty feet into my living room to reset the Wi-fi! I think most of us can agree that we'd be a little less than thrilled to do the same thing only a few hours away. Thus, instead of driving to a remote location to do something as simple as press the reset button on a device, an administrator can do the same action from the comfort of his office or even living room with an RPM.
Minuteman's RPM Series Highlights:
Control power to up to 16 devices from anywhere that an internet connection is present
Receive instant notification when power events or lockups occur via email or text message
Securely reboot locked devices from a laptop, PC, smartphone, or tablet via web browser
Save power with scheduled startup and shutdown during off-hours to increase efficiency
In this 'always on' world, we can't afford the downtime it takes to fix remote power problems. That's where our 'always connected' society comes in. By connecting system administrators and technicians with their equipment through their phones, businesses are able to save time, increase productivity and cut cost.
Video: Learn more about all of the Remote Power Management tools from Minuteman

Download our Free White Paper: Saving Time & Money with Remote Power Management